Author: Shéa MacLeod
Narrator: Yvette Keller
Length: 4 hours 47 minutes
Series: The Viola Roberts Cozy Mysteries, Book 1
Publisher: Shéa MacLeod
Release date: Aug. 29, 2016
Genre: Cozy Mystery


Sassy, snarky Viola Roberts quit her boring accountant job to pursue her dream of writing novels, even if it meant eating ramen noodles every day. Now that her career has taken off, she's headed to a writers' conference at an exotic Florida resort complete with white-sand beaches and swaying palm trees, where she plans to lounge in the shade drinking frosty beverages with little umbrellas. And, of course, no sojourn to tropical climes would be complete without her boozy, wise-cracking best friend, Cheryl.
When Viola discovers the diva of the author world dead (as a doornail) of unnatural causes, the police immediately consider Viola their prime suspect. But when the head detective turns a gimlet eye on Viola's best friend, the author has had enough! Along with help from hunky fellow writer Lucas Salvatore, Viola is determined to ascertain who killed the corpse in the cabana before she or Cheryl winds up in jail. Or worse.
Viola Roberts cozy mysteries:
The Corpse in the Cabana
The Stiff in the Study
The Poison in the Pudding
The Body in the Bathtub
The Venom in the Valentine
The Remains in the Rectory



Shéa MacLeod writes urban fantasy post-apocalyptic sci-fi paranormal romances with a twist of steampunk. Mostly because she can't make up her mind which genre she likes best so she decided to write them all.
After six years living in an Edwardian town house in London just a stone's throw from the local cemetery, Shéa headed back to her hometown of Portland, Oregon. She plans to live out her days eating mushroom pizza, drinking too many caramel lattes, exploring exotic locales, and avoiding spiders.
Shéa is the author of the Viola Roberts Cozy Mysteries and the bestselling Lady Rample Mysteries.

Yvette Keller's first job as a narrator was reading aloud to keep her little brother out of trouble. Her favorite party trick is reading words upside down. Little kids need to see the pictures. Yvette lives in her beloved home town of Santa Barbara, using a lifetime of vocal stamina in her home studio. She produces technical VO industrials for Mesa Steps Consulting clients in addition to audiobooks. A lifetime of reading and speaking has proven one thing: Yvette loves stories. She is thrilled to be making books accessible and engaging through her narration work.

This first story in the Viola Roberts Cozy Mysteries series is an enjoyable and light-hearted murder mystery, with plenty of snark and humorous comments, mainly coming via the main character. There's a host of possible suspects and 'red herrings' along the way for the reader/listener to consider, although the main clue appeared to be overlooked by the amateur sleuth and her companion as they investigate the murder of another author at a writers' convention. And that's my main issue with the story, when the 'clue' is announced again near the end, Viola reacts as if she didn't know the fact (even though it was clearly stated twice half-way through the story) and she promptly solves the mystery. The resolution and capture of the murderer happens quickly and a little too conveniently. Also two nasty things happened to Viola which left me wondering how did that happen without anyone else seeing. Apart from these points, the story is fun and entertaining. I liked the author's writing style and being in first person narrative worked well for Viola's personality, with her thoughts and remarks providing amusing commentary on the various scenes.
Yvette Keller narrated the novella admirably. She maintained a swift and exciting pace to match the storyline and kept my interest throughout. She created distinct and varied voices for each of the characters and aptly portrayed the dramatic and suspenseful scenes.
I received this audiobook as part of my participation in a blog tour with Audiobookworm Promotions. The tour is being sponsored by Yvette Keller. The gifting of this audiobook did not affect my opinion of it.

THE CORPSE IN THE CABANA
May 9th:
May 10th:
May 11th:
May 12th:
May 13th:
May 14th:
May 15th: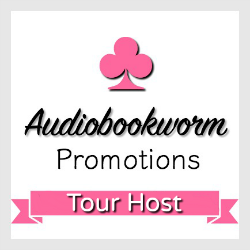 ➜Sign up as a host here